A big shoutout to everyone who's currently in lockdown.

As the days roll into months for some of us, you'd be forgiven if your partner or roomie wasn't starting to annoy the absolute crap out of you!

Welcome SERVD to the table, the ultimate lockdown mood-lifter, that'll bring a little bit of laughter and fun into your household, which I think is something we could all get amongst, right about now!

In particular, Martin and Lizzie.

A Sydney couple currently serving their time.
This is their SERVD lockdown love story.
DAY ONE. 
After a long hard day of working from home…(I sent 4 emails)
Martin has the audacity to ask me what's for dinner. As if I'm some sort of on-call chef.
WTF Martin, there's the fridge go make yourself a Vegemite sandwich
and whilst you're there why don't you throw together a 3 course feast with all the trimmings.
Holla @ me when it's ready.
DAY TWO

Martin just sneezed. I'm now enforcing a 3m rule which not only protects me from his germs but also his wandering hands. 
DAY THREE
I haven't showered in 3 days and at this point I feel like if I came in direct contact with COVID19 it would reject me as a host.
Time to play The Pamper Me Card and glow up. Can not wait for my mediocre massage from Martin whilst he complains of RSI from too much "gaming".
DAY THREE EVENING

Martin just hit me with
The Basin Retrieval Card.
#Rude
.
WELL Martin, this face doesn't just throw itself together it takes a village and that village is located on our bathroom basin...
Well played. Game on. 
DAY FOUR
Martin just rolled his eyes at me. He's now doing the lawn in a one piece, cute frock and leggings.
LOVE. THIS. GAME. 
DAY FIVE

Whats that? A
Love Island
Marathon. RSVP YASSSS. 
Change of plans Martin Played
The Yeh Nah Card
and now we're watching Rex Hunt. Send HALP. 
DAY SIX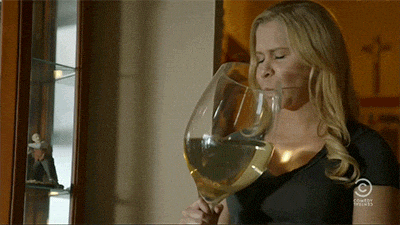 DAY SEVEN

Martin played
The Hobby Hater Card
and we're now playing Call Of Duty whilst yelling abuse at what I think are 12 year old boys.
TBH not hating it. 
DAY EIGHT
Things are getting intense.
(I accidentally slept through day 7).  
DAY NINE
We've officially run out of toilet paper. Lucky we are both constipated from living off 2 minute noodles. 
DAY TEN
Martin's on his phone giggling. Who the hell you talking to Martin, everyone you know and love (me) is here. 
DAY TWELVE
We just ordered take out and for some stupid reason I got a salad, Martin got a burger.
Upon arrival I changed my mind and tried to steal his meal. Martin very firmly blocked my request with his Not Today Satan Card. Sexy.
DAY THIRTEEN
The hardwood floor in my apartment has 213 planks. I'm not bored, you're bored.
TBC...
 Hang in their peeps, and keep an eye out for how Martin and Lizzy's game unfolds!